About the oil and gas business
Q1: I want to grasp the whole picture of the oil and gas business
A) Please refer to the image below. In a broad sense, the oil and gas business includes everything in the image below, but its narrow definition often refers to the "upstream" industry, namely, the acquisition of the mineral lease, exploration, development, production and sales of crude oil and natural gas. Upstream industry is often referred to as E&P (Exploration and Production).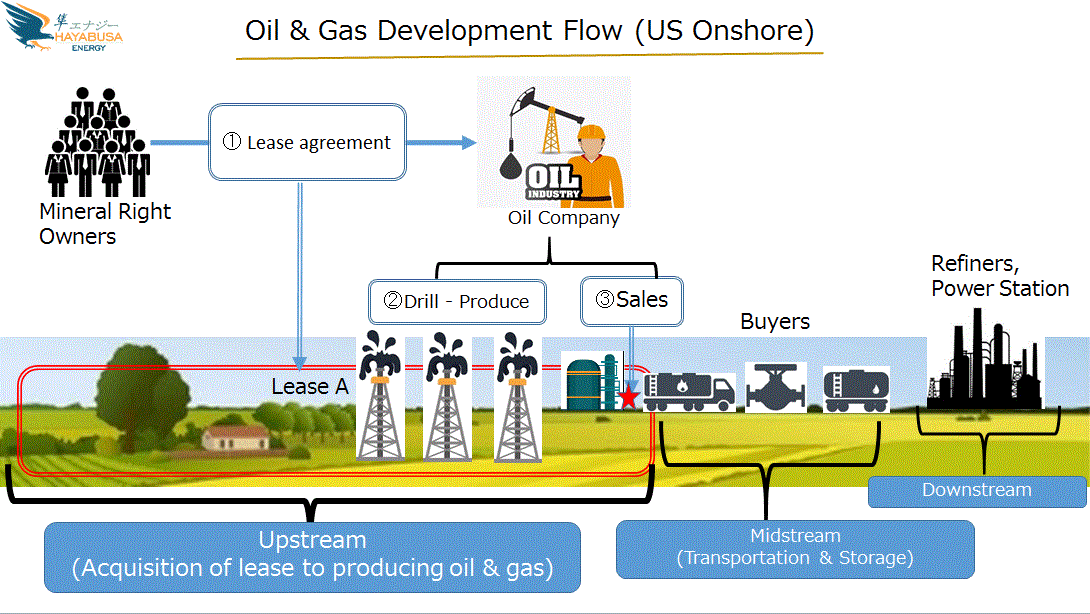 Q2: In the upstream industry, what do you sell and to whom?
A) We sell at well site crude oil and natural gas produced from the wells (as opposed to gasoline or electricity which are the typical end products made from crude oil and natural gas). The final buyers of crude oil & natural gas are often refineries, power stations and chemical plants. However, producers in upstream normally sell to intermediate buyers and pipeline companies at their well sites.
Q3: On what rights do the oil companies drill and produce?
A) Oil companies sign a contract with people who have mineral rights, which are the ownership of the underground resources, and reach an agreement to exploit underground resources under certain conditions. This contract is called a "lease", and the rights of the oil company to exploit such resources at its own cost and risk is called the "working interest."
Q4: What kind of rights are mineral rights? Who possesses these rights and for what purposes?
A) There are some differences between the states, but mineral rights are basically the ownership of underground resources, and in most states, these rights give ownership with no time or depth limitations. Typical mineral rights have been inhherited from the first owner of the surface land. However, mineral rights can be bought and sold freely, so it is not rare for someone to have mineral rights regardless of their rights on the surface land. The primary purpose of possessing mineral rights is to gain loyalty from oil and gas production income by signing a lease with an oil company. Currently, typical loyalty rate hobers around 20–25%.
Q5: Do you need government approval for transaction relating to mineral rights and working interests?
A) If it is private land, the mineral rights are owned by private individuals, so all that matters is the agreement ("lease") between the mineral rights owners and the oil company. The federal government and state government will not interfere in the transaction. However, parties will need to abide by environmental regulations and undertake reporting duties.
About Hayabusa Energy Group
Q1: Where is Hayabusa Energy Group based?
A) Hayabusa Energy USA LLC is a Texas company, wholy owned by Japanese parent, Hayabusa Energy Corporation. Hayabusa Energy USA LLC has partial ownership of Hayabusa One USA LLC which owns working interest in the oil & gas assets.
Q2: Who are the shareholders of Hayabusa Energy Corporation?
A) As of August 14, 2017, Yoichiro Shimizu owns 72%, and five other individuals own 28%.
Q3: Is entering the upstream industry possible with such little capital?
A) Asset deals come in all size and shapes in US upstream, and there certainly are deals just fit for our size as we proved in our 1st acquisition in Hefley lease.
Q4: What is Hayabusa Energy's distribution policy?
A) Hayabusa One, which currently owns the assets, has been distributing full cash flow to investors every quarter, and will continue to do so for the asset life.
Q5: What is your business plan for the 2017 financial year?
A) To continue the production operation of the first asset which we acquired on January 1, and to prepare the acquisition of a second asset.